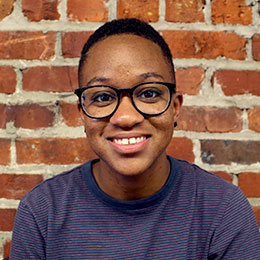 We're excited to welcome Regina Battle to our team as our new in-house web developer.
Regina is passionate web developer who brings ideas to life. With the user in mind, she delivers beautiful and functional experiences. When not coding, she's crate digging at local record stores or even online to put together the perfect playlist or mix. Her camera is often in hand capturing moments with friends, around Richmond or on other adventures.
Regina's strong background in programming and development complements our agency's existing creative and strategic talents and she'll help us approach projects from a new and unique perspective.
Regina is responsible for the front-end and back-end development of the agency's interactive projects, including websites and emails. She'll also work closely with Randall Branding's creative team on project planning and design.