One of the best things about working at Randall Branding is building relationships with great people. We love it when our clients share their world with us. And in the interest of returning the favor, we'll be sharing parts of our weird and wonderful world with you here.
---
Six things you may not know about Jesse Randall, our President and Creative Director.

1. I've always been passionate about art. When I was in second grade, I was given my own art studio at school. Instead of attending regular art classes with my classmates, I had a studio in a back room where I would work on my own projects. My favorite artist is Salvador Dali. He inspires me by the way he stretches the imagination and goes beyond the expected. I chose to make a career out of what I love and pursue graphic design and art direction, but I wish I had more time to paint and draw. I thank God for giving me the gift of being artistic and all blessings that have come with it!
2. I have a first degree black belt in Taekwondo. I trained in middle school with my mother, father and sister—it was a great family bonding experience I'll never forget! Taekwondo taught me a lot about respect, humility, and perseverance, which has had huge influence on who I am today. Unfortunately, I've lost a little flexibility since then. I'll always appreciate that my mother and father taught us the value of family and instilled those important morals.
3. At Cazenovia College, I realized my passion for entrepreneurship. I ran my own business out of the computer lab, called Vista Communications. Gaining business knowledge and learning how to work with clients has had a huge impact on the success of the Randall Branding Agency. River Valley Frozen Foods is one of the clients I've had since I was in college, and I thank Cazenovia for giving me the opportunity to develop the business skills I use everyday.

4. I interviewed for an internship at Eric Mower and Associates my sophomore year of college and brought a 6 ft. x 4 ft. oil painting to the interview with me. It was a little awkward caring a 6 ft. painting out of the elevator and into the conference room, but it worked! I got the internship and was welcomed back for my junior year as well. I'm grateful to Eric Mower and Associates, for seeing my potential and giving me that first opportunity.
5. I lost sixty pounds when I was in my mid-twenties. At the time, I was working for Partners and Napier in Rochester, New York. I went from 240 lbs. to 180 lbs. in a grueling four month period of muscle-building, intense cardio and healthier diet. Afterwards, I met the love of my life, got married, had kids, and gained most of it back. Twelves years later, I'm challenging myself again, so we'll see how it goes! I'm so lucky to have Christie, my amazing wife, pushing me everyday to live a healthier lifestyle.
6.Christie and I were married at the Boardwalk Resort in Walt Disney World in 2006. After ten years, I love her more than ever. It's crazy how fast the years have flown by, but I wouldn't change a thing. We're celebrating our tenth anniversary this February, by going to St. Lucia for a week. I have to thank all of my amazing employees for running the agency while we're on vacation—it's great to know I can take time off and not have to worry!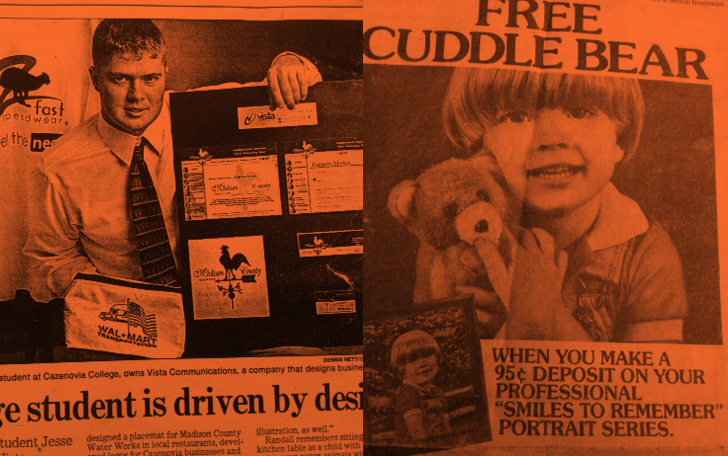 Here are a few more things you may or may not know about me.
– When I was in college, I won a logo contest for Walmart.
– I was a child model, and I did a couple of national campaigns for Sears.
– I designed the logo for Elephant Auto Insurance.
– I'm a huge fan of Syracuse Orange Basketball and the New York Mets. That's why the Randall Branding Agency's logo is orange—it's my favorite color!
If you want to know more about us, you can jump over here. If you'd like to see what we do, you can always jump over there.
See you next time!